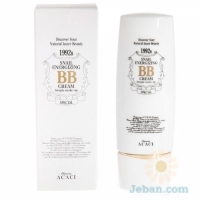 Chamos
Snail Energizing BB Cream
ประเภท

ราคา (บาท)

ปริมาณ
Detail
It is a new multi-functional Blemish Balm Cream with the effects of whitening,
anti-wrinkle, sun-block and continuous moisture-keeping that makes your skin
moisturizing. It is soft to use it, excellent in contacting your skin and effective to
express your skin naturally. It corrects your skin naturally, various useful ingredients supply moisture and nutrition to your skin and protects your skin from harmful circumstances.

You can get the effects of whitening, improvement of wrinkles, sun block, moisture supply and makeup.

The features of the Product
Whitening effect : Arbutin that suppresses melanin makes your skin clear and clean and you can get a new whitening effect.
Anti-wrinkle effect : The ingredient of adenosine gives elasticity to your skin and improves wrinkles.
Simple makeup effect : It contains the function of sun block. You can wear a simple makeup when you go out in your busy daily lives.
COMMUNITY SAYS!