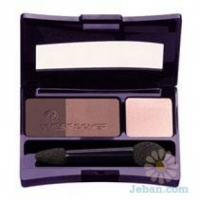 Yves Rocher
Matte Tri-Tone Eye Shadow
ประเภท

ราคา (บาท)

ปริมาณ

สี
Detail
3 graduated shades,
3 simple steps,
for defined eyes

An easy 3-step application to beautify your eyes by creating light and shadowed areas:
-Illuminator: on the brow bones, a light, sheer shade that highlights the eye.
-Sculptor: on your eyelids, a medium shade that defines the creases and curves.
-Liner: at the lashline, a dark shade that lines the eyes and intensifies your look.

A fine, textured powder for ultimate comfort, immediate coverage, and a smooth finish.
COMMUNITY SAYS!