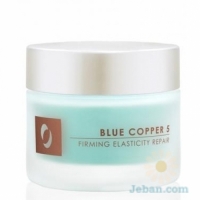 Osmotics
Blue Copper 5 : Firming Elasticity Repair
ประเภท

ราคา (บาท)

ปริมาณ
Detail
Osmotics' advanced research has discovered the next generation in copper technology for promoting firmer, healthier, younger looking skin. This elegant formulation combines the proven benefits of copper with our new anti-aging molecule, the 5-chain Penta Peptide.

-Increases firmness, elasticity and tone.
-Promotes radiance and skin clarity for a luminous complexion.
-Increases skin's natural moisture resulting in smoother more even texture.
-Non-comedogenic, no artificial colors or fragrances.
-Perfect for all skin types, including sensitive.
COMMUNITY SAYS!