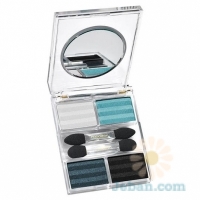 Napoleon Perdis
'Chinese New Year' Prismatic Eyeshadow Quad
ประเภท

ราคา (บาท)

ปริมาณ
Detail
To herald the beginning of the Chinese New Year, Napoleon Perdis has created a limited-edition Prismatic Eyeshadow Quad palette in shades inspired by some of the key character traits found in those born in the Year of The Snake. The result: an alluring eye statement. Each of the four shades work well on their own or mixed together for a stunning smoky eye effect.

-The highlighter shade is Grace.
-The teal shade is Insight.
-The dark green shade is Influence.
-The black shade is Stealth.
Includes two applicators.
0.47 oz.
By Napoleon Perdis.
COMMUNITY SAYS!