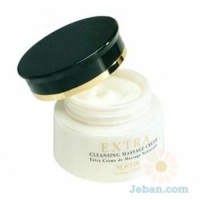 Norvier U.S.A.
EXTRA Cleansing : Massage Cream
ประเภท

ราคา (บาท)

ปริมาณ
Detail
This velvety cleansing cream helps to remove oil-based impurities and makeup while retaining moisture. It also serves as a massage cream to improve circulation for a glowing complexion. For optimum results, use with your 505 Skincare Line or your other Noevir Skincare steps.

Micro-emulsified ingredients cleanse deeply and thoroughly without stripping the skin of essential moisture.
Patent-pending* Super Activation Effect helps to revitalize the skin.
(*Patent-pending in Japan)
Lecithin-encapsulated emollients are released during cleansing and massaging for maximum hydrating effects. It continues to moisturize the skin—even after rinsing!
COMMUNITY SAYS!