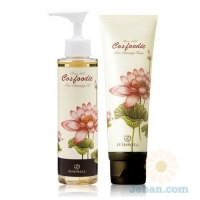 ZENISWELL
Cosfoodic Pure Cleansing Oil + Cleansing Foam
ประเภท

ราคา (บาท)

ปริมาณ
Detail
1. [Cleansing Oil]
: Cleansing power that removes make-up, sebum and black head from pores clearly.
: Mixed with 100% of natural aroma oil and vegetable oil. Keeps skin moisturized after washing face.
: Mild feeling with no-artificial chemical preservative and natural fragrance.
: Refreshing and cool fragrance of citrus.
: Dermatology tested.
: 6 NOs (No-mineral, no-artificial chemical preservative, no-artificial fragrance, no-animal oil, no-artificial colors, no-chemical surfactant)

2. [Cleansing Foam]
: Rich lather removes make-up and impurities clearly.
: Contains herb ingredients and keeps skin moisturizing.
: No-color, no-mineral and no-artificial fragrance.
: Fragrance of citrus and floral.
COMMUNITY SAYS!