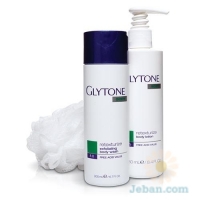 Glytone
Retexturize : Keratosis Pilaris Kit
ประเภท

ราคา

ปริมาณ
Detail
Rid your skin of unsightly bumps. Keratosis Pilaris is a common skin condition characterized by small, red bumps primarily on the back and upper arms. The Keratosis Pilaris kit will help reduce these symptoms. The Body Lotion, used in conjunction with the Exfoliating Body Wash, smooths away those rough bumps to reveal smooth, supple skin.

The kit contains an Exfoliating Body Wash (6.7 fl. oz.) and Body Lotion (8.4 fl. oz.).

WHO IT'S FOR
Ideal for those with Keratosis Pilaris who want to reduce the redness and bumps associated with this condition.
KEY INGREDIENTS
Glycolic Acid renews the surface layer of the skin. Glycerin hydrates the skin. Allantoin calms the skin.
HOW TO USE IT
Squeeze a small amount (1-2 teaspoons)of Exfoliating Body Wash onto a loofah or wet washcloth and massage over the entire body, working into a rich lather. Rinse thoroughly. Gently massage Body Lotion onto arms, legs, and other parts of your body that require special attention. For best results, use the lotion immediately after shower or bath. Use as often as desired.
FULL INGREDIENTS
Glytone Body Lotion Water, glycolic acide, propylene glycol, cetearyl alcohol, petrolatum. glycerin, potassium hydroxide, PEG-40 stearate, allantoin, propyl gallate, tocopheryl acetate, (vitamin E). Glytone Exfoliating Body Wash Ammonium Lauryl Sulfate, Water, Glycolic acid, potassium hydroxide, cocamidopropyl betaine, TEA-dodecylbenxenesulfonate, glycerin, lauramine oxide, fragrance, hydroxyethyl ethyolcellulose, imidazolidinyl urea, lauramide DEA, methylparaben, propylparaben, FD & C Blue no. 1, FD & C Green no. 3.