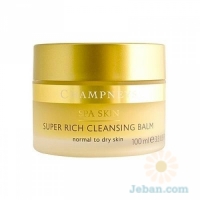 Champneys
Spa Skin : Super Rich Cleansing Balm For Normal to Dry Skin
ประเภท

ราคา (บาท)

ปริมาณ
Detail
This super rich cleansing balm with avocado, jojoba and natural floral oils lift away every trace of make-up and impurities to renew your skin deeply cleansing, toning and exfoliating in one indulgent treatment.

How to Use
Champneys therapists recommend...

...using weekly as part of your evening routine.

Warm the balm in your hands until it feels smooth, inhale the therapeutic aromas and massage in your face and neck using small circular movements.

Soak the muslin cloth in warm water, squeeze out any excess and hold over your face and neck for a few seconds before lightly polishing off.

Rinse with cold water.
COMMUNITY SAYS!