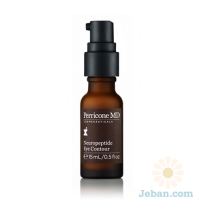 Perricone MD
Neuropeptide Eye Contour
ประเภท

ราคา

ปริมาณ
Detail
Neuropeptide Eye Contour is a rich treatment that delivers firming benefits to sagging and delicate skin. With advanced Neuropeptide technology, this eye cream helps to diminish the appearance of fine lines and wrinkles and give eyes a more youthful and brighter appearance. The moisturizing formula contains patented ingredients including a blend of Neuropeptides and DMAE that help firm sagging and fragile skin minimizing the appearance of deep lines, wrinkles while diminishing puffiness discoloration and dark circles.
BENEFITS
- Drastically reduces the appearance of fine lines, wrinkles, loss of tone and firmness.
- Diminishes the appearance of papery, translucent skin.
- Increases balance and moisture.
- Combats discoloration and dark circles.
- Decreases the appearance of puffiness both above and below the eye.
- Paraben-free.