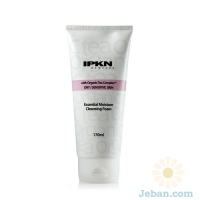 IPKN
IPKN Essential Moisture Cleansing Foam
ประเภท

ราคา (บาท)

ปริมาณ
Detail
IPKN Organic Tea Cleansing is

1. Providing the best environment for skin to breath

2. Applied more naturally since the original way of natural itself is contained.

3. The ingredients are proved, you can fully trust them.

4. Solving out the skin trouble with customized cleansing for each different skin type.

After using as moisture rising , leaves the skin feeling moist and smooth texture without stretching sensation
Coconut-derived surface active agent used: Protects against excessive moisture loss

Ingredients : Common Ingredients : Sansevieria, nut pine, rosemary Organic complex (green tea, cornflower, lavender, Houttuynia Cordata, fennel seed, chamomile, ocimum basilicum) Additional Ingredients: Amino acid complex, oligo GGF, coconut-derived active agent, betaine

To Use : When washing, apply appropriate amount at the hand and massage over the face with enough bubbles formed. Then, rinse with water thoroughly.
COMMUNITY SAYS!