Soap & Glory
SCRUB IN THE FAST LANE 2 MINUTE FACIAL PEEL & POLISH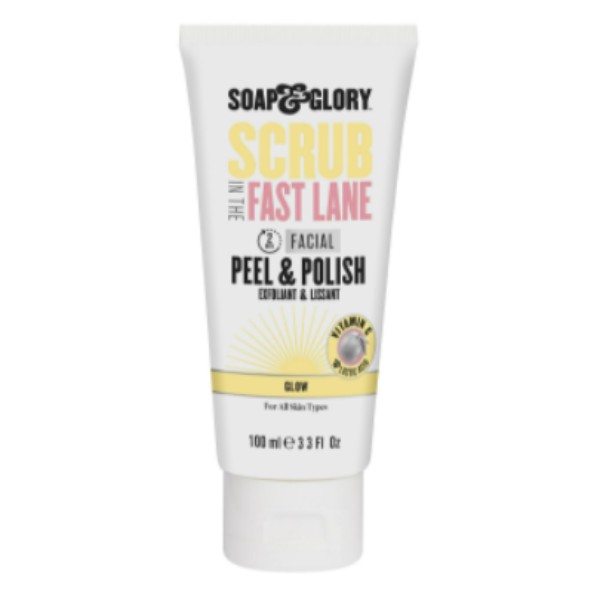 Soap & Glory
SCRUB IN THE FAST LANE 2 MINUTE FACIAL PEEL & POLISH
Product Detail
With its unique blend of ingredients and dual-exfoliators, it delivers dramatically smoother and glowing skin in just 2 minutes! Skin looks refined and ready for anything! It quickly AND effortlessly smoothes and removes dead cells to help fight signs of dull and tired-looking skin.
AM or PM, apply a pea-sized amount to a clean, wet face. Massage in circular motions for 30 seconds, and leave on for 2 minutes for the gentle peeling action to kick in. Rinse and gently pat dry to reveal the glow! Use 2-3 times a week.
Hazards and Cautions
This product contains an alpha hydroxy acid (AHA) and a beta hydroxy acid (BHA) that may increase your skin's sensitivity to the sun. Use a sunscreen, wear protective clothing and limit sun exposure during usage of the product and for a week after use of this product has stopped. Avoid contact with eyes. If product gets into eyes rinse well with water immediately. Do not apply to irritated or broken skin.
Price (Size)

500 (100 ml.)

URL
Add to Compare
Favorite
Share
Shop Now
Quick Product Notes
ดูคำธิบายเพิ่มเติม จิ้มที่ชื่อได้เลยนะ :)
Good for Dry Skin
Good for Oily Skin
Anti-Aging
Brightening
Acne-Fighting
Good for Sensitive Skin
Ingredients

ดูคำธิบายเพิ่มเติม จิ้มที่ชื่อได้เลยนะ :)

Notes

Squalane :

Squalane

BHA :

Salicylic Acid

Vitamin E :

Tocopheryl Acetate (Vitamin E)

Tocopherol (Vitamin E)

AHA :

Lactic Acid

Water/Aqua/Eau
Dicaprylyl Carbonate
Glycerin
Good for Dry Skin
Glyceryl Stearate SE
Bad for Oily Skin Fungal Acne Trigger Comedogenic Rating (3)
Cetyl Alcohol
Comedogenic Rating (2)
Ethylhexyl Stearate
Fungal Acne Trigger
Propylene Glycol
Good for Dry Skin
Glyceryl Stearate
Fungal Acne Trigger
Simmondsia Chinensis (Jojoba) Seed Oil
Fungal Acne Trigger Comedogenic Rating (2)
Prunus Amygdalus Dulcis (Sweet Almond) Oil
Bad for Oily Skin Fungal Acne Trigger
Pentylene Glycol
Polyacrylate Crosspolymer-6
PEG-100 Stearate
Fungal Acne Trigger
Hydrated Silica
Sodium Hydroxide
Hydroxyethyl Acrylate/Sodium Acryloyldimethyl Taurate Copolymer
Phenoxyethanol
Silica
Chlorphenesin
Butylene Glycol
Good for Dry Skin Comedogenic Rating (1)
Butyrospermum Parkii (Shea) Butter
Bad for Oily Skin Fungal Acne Trigger
Tetrahexyldecyl Ascorbate
Anti-Aging Brightening
Polysorbate 60
Fungal Acne Trigger
Trisodium Ethylenediamine Disuccinate
Limonene
Allergens
Citrus Limon (Lemon) Peel Oil
Bad for Sensitive Skin
Geranium Robertianum Extract
Scutellaria Baicalensis Root Extract
Houttuynia Cordata Extract
Citrus Reticulata (Tangerine) Peel Extract
Centaurea Cyanus Flower Extract
Aspalathus Linearis Extract
Eisenia Arborea Extract
Porphyra Yezoensis Extract
Phaseolus Radiatus Sprout Extract
SCORE AVERAGE :
กระชับรูขุมขน ใช้แล้วรู้สึกเลยว่ารูขุมขนเล็กลงมาก
ช่วยผลัดผิวเนียนเรียบ ผิวเนียนมาก ผิวดีเลยจ้า
ลดรอยหมองคล้ำจุดด่างดำ ดูจางลงนิดนึง
SCORE AVERAGE :
กระชับรูขุมขน ใช้แล้วรู้สึกเลยว่ารูขุมขนเล็กลงมาก
ช่วยผลัดผิวเนียนเรียบ ผิวเนียนมาก ผิวดีเลยจ้า
ลดรอยหมองคล้ำจุดด่างดำ ดูจางลงนิดนึง
Quick Product Notes
ดูคำธิบายเพิ่มเติม จิ้มที่ชื่อได้เลยนะ :)
Good for Dry Skin
Good for Oily Skin
Anti-Aging
Brightening
Acne-Fighting
Good for Sensitive Skin
Ingredients

ดูคำธิบายเพิ่มเติม จิ้มที่ชื่อได้เลยนะ :)

Notes

Squalane :

Squalane

BHA :

Salicylic Acid

Vitamin E :

Tocopheryl Acetate (Vitamin E)

Tocopherol (Vitamin E)

AHA :

Lactic Acid

Water/Aqua/Eau
Dicaprylyl Carbonate
Glycerin
Good for Dry Skin
Glyceryl Stearate SE
Bad for Oily Skin Fungal Acne Trigger Comedogenic Rating (3)
Cetyl Alcohol
Comedogenic Rating (2)
Ethylhexyl Stearate
Fungal Acne Trigger
Propylene Glycol
Good for Dry Skin
Glyceryl Stearate
Fungal Acne Trigger
Simmondsia Chinensis (Jojoba) Seed Oil
Fungal Acne Trigger Comedogenic Rating (2)
Prunus Amygdalus Dulcis (Sweet Almond) Oil
Bad for Oily Skin Fungal Acne Trigger
Pentylene Glycol
Polyacrylate Crosspolymer-6
PEG-100 Stearate
Fungal Acne Trigger
Hydrated Silica
Sodium Hydroxide
Hydroxyethyl Acrylate/Sodium Acryloyldimethyl Taurate Copolymer
Phenoxyethanol
Silica
Chlorphenesin
Butylene Glycol
Good for Dry Skin Comedogenic Rating (1)
Butyrospermum Parkii (Shea) Butter
Bad for Oily Skin Fungal Acne Trigger
Tetrahexyldecyl Ascorbate
Anti-Aging Brightening
Polysorbate 60
Fungal Acne Trigger
Trisodium Ethylenediamine Disuccinate
Limonene
Allergens
Citrus Limon (Lemon) Peel Oil
Bad for Sensitive Skin
Geranium Robertianum Extract
Scutellaria Baicalensis Root Extract
Houttuynia Cordata Extract
Citrus Reticulata (Tangerine) Peel Extract
Centaurea Cyanus Flower Extract
Aspalathus Linearis Extract
Eisenia Arborea Extract
Porphyra Yezoensis Extract
Phaseolus Radiatus Sprout Extract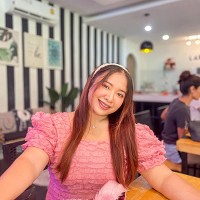 Armapip🧚🏻
1 year ago
ผิวใสขึ้น เนื้อไม่บาดผิว ชอบค่ะ
กระชับรูขุมขน ใช้แล้วรู้สึกเลยว่ารูขุมขนเล็กลงมาก
ช่วยผลัดผิวเนียนเรียบ ผิวเนียนมาก ผิวดีเลยจ้า
ลดรอยหมองคล้ำจุดด่างดำ ดูจางลงนิดนึง